OBITUARY
Robert L Hill
December 29, 1933

–

November 14, 2022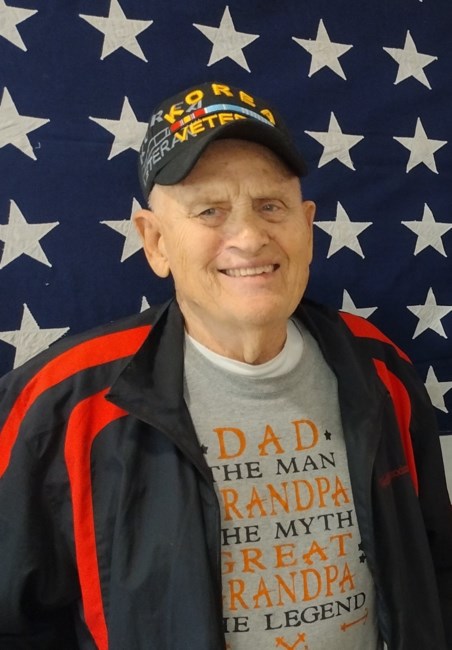 Robert Lawrence Hill was born December 29, 1933 on the farm in Randall, Iowa, to Mabel Tungesvik Hill and Albert Hill. It wasn't until after graduation from high school that he was called Bob. Bob himself wrote the following in December of 1993, at age 60: I was one of eight boys and had two sisters. My family lived in the country so we had a cow for milk, cream and butter; chickens for eggs and meat. We chopped and carried in firewood for fuel. Mom cooked on a wood stove for many years. Laundry took all day to do the wash, as water had to be heated on the cook stove. Us boys were older so we would help fix pancakes etc. Mom usually monitored the kitchen help. Times were hard and we done the best we could to have food and clothes. Dad had a bad drinking problem and worked in town 2 miles away. We had to do the milking when we got old enough to do that, and feed the cow too. We had rabbits we raised for meat as well. We got to clean out the barn, chicken house, and rabbit pens. When Ben and I got old enough to hunt we would go hunting 2-3 times a week. After graduation I got a job in a machine shop in Webster City. The next year I got a job driving a gravel truck for a construction company. I got married the next year to a very nice girl that I went to school with. Betty was a year behind me and a farm girl. In 1953 we got married in a little Baptist church in Boone County, Iowa. Then a year later I went into the army – — involuntary draft. Our oldest daughter was born while I was in service. My tour of duty was to Korea. Then upon returning I took tool and die training on the G.I. Bill. It was Labor Day in 1956 that we had a full-term stillborn baby. As I went home I could not go to sleep. (I was raised a Lutheran, yet I went to a Baptist church while dating my wife early on, and the Scripture had fallen on my ears and my heart.) I cried out for God as I realized God did have power over life and death. It was at that time that I asked Christ to come into my life, that very night. Then, after attending a Baptist church a year, I walked the aisle to ask Christ to forgive me and come into my life as Savior and Lord. He gave me peace, love I never knew before, and a purpose for living. A light came on, as He began to show His power and grace. I am thankful for my wife as she prayed for me faithfully. The assistant pastor spoonfed me from the Word, to help me get grounded. I had more love for my Christian brothers and sisters then for my own brothers and sisters. I continued on, in tool and die for seven years before beginning in ServiceMaster cleaning business where Betty and I worked together for 30 years. We also had three other children; in 1958, 1960, and 1967. I retired from ServiceMaster in 1992. In March of 1996 I began working at Fourth Memorial Church in Spokane, Washington, as facility manager, as well as overseeing the maintenance of the church's vehicle's, and working up at the church camp, Riverview Bible Camp. I learned a lot about people and had good and hard times. I John 1:9 was my strength. "If I confess my sin, God is faithful and just to forgive me my sin" God is faithful – – Another verse is II Timothy 2:22 "Now, flee from youthful lusts, and pursue righteousness, faith, love, and peace with those who call on the Lord from a pure heart." Through this verse He gives me strength. Hebrews 4:14-16 "Since we have a great High Priest Who has passed through the heavens, Jesus the Son of God, let us hold fast our confession. For we do not have a High Priest who cannot sympathize with our weaknesses. But One who has been tempted in all things as we are, yet without sin. Let us therefore draw near with confidence to the throne of grace, that we may receive mercy and may find grace to help in time of need." Praise His name. My heart's desire now, is for my children and grandchildren to walk with the Lord and find Him faithful as they trust Him daily. Praise God, all of our children know Him personally. Our witness is for Christ now. We cannot take any material goods with us into heaven so remember Matthew 6:33 " But seek you first the kingdom of God and his righteousness; and all these things shall be added to you". Only Christ is worthy to be King and Savior of this world. You can read all about it in the Holy Bible, His Word. "Bob's life, continued"…by Betty and Marilyn After Bob retired, he and Betty traveled a lot, even to Mexico, volunteering at various mission organizations, but in 2002 they moved to Arizona. At the Mexico Branch (MXB) of Summer Institute of Linguistics (SIL) Bob enjoyed demolition and construction projects and coffee breaks, building and parking lot maintenance and coffee breaks. Bob learned he was eligible for the VA assistance after he was diagnosed with cancer, which turned out to be a huge blessing with all the tests and doctor bills. Plus, at Blind Rehab center they trained him how to deal with and to even thrive though legally blind. When Bob's health began to slow him down, he and Betty sold their "dream home with a view". He enjoyed working so their move to Mountain Vista Apartments was a perfect fit for him as he helped with building and grounds maintenance, coffee breaks and would try to fix anything with or without a motor. When he chose to give up driving due to his declining eyesight he still enjoyed driving – – the power lawnmower at the apartments. The orchard and field always looked well groomed. They spent about 20 happy years working alongside the people who came to AZ to volunteer for the winter. As the cancer spread and Bob's s body began to wear out, he slowed down even more but in refusing chemo he chose quality of life over quantity of life. He continued to go to the gym with His son in law, and even after his 2 1/2 week hospital stay he fought to regain his strength – – even got to go on another trip to the Northwest to visit family and back to the gym for a week before his major stroke. Over the years Bob faithfully took his family to church Sunday mornings, Sunday evenings as well as to Wednesday evening prayer meeting. But he also served as a deacon, sang in the choir, a men's quartet, other mixed ensembles and taught a junior high Sunday school class for many years. Bob always found some work needing to be done and lent a willing hand, at church, at home, and abroad. "Bob thought working was fun." Resume for Robert Hill Birth date: 12/29/1933 Stanhope, Iowa Educational Back ground High School- Graduated Stanhope 1951 Military- Active duty in the Army 1953-1955 Korea-Heavy Equipment Operator, Army Corps of Engineers Trade school- Certificate in Tool and Die trade 1956-1958 Des Moines, Iowa Real Estate- trained and licensed to sell real estate 1992 Work History Volunteer: Wycliffe Associates- Tucson, AZ 2000-2022 Volunteer: Facilities Manager Fourth Memorial Church-Spokane, WA 1996-2001 Construction Laborer: EM construction 1993-1996 Carpentry, general labor Real Estate sales: Windermere North 1992 Property listing and sales Business: ServiceMaster 1961-1991 Service business and Regional Manager Tool and Die: 1956-1961 Machine shop and aviation manufacturing Heavy Equipment Operator: 1953-1955 Dozer, dump truck operator Farming: 1952-1953 Plant, harvest, livestock care Construction: 1951-1952 Gravel Delivery A Committal Service with Military Honors will be held on Friday, December 2, 2022 at 9:00 am in the Arizona Veterans' Memorial Cemetery, 15950 N. Luckett Rd. Marana, AZ. A Celebration of Life will follow at 3:00 pm in the Open Door Baptist Church, 16131 N. Vernon Dr., Catalina, AZ. Fond memories and expressions of sympathy may be shared at www.neptunesociety.com/location/tucson-cremation for the Hill family.
See more
See Less
Past Services
Friday,
December 02, 2022
Committal Service with Military Honors
Friday,
December 02, 2022
Celebration of Life
In Memory Of
Robert L Hill
Help tell the story of your loved one's unique life. Leave a memory or share a photo below to show your support.