OBITUARY
Joan Wakefield Noell
February 23, 1930

–

November 16, 2022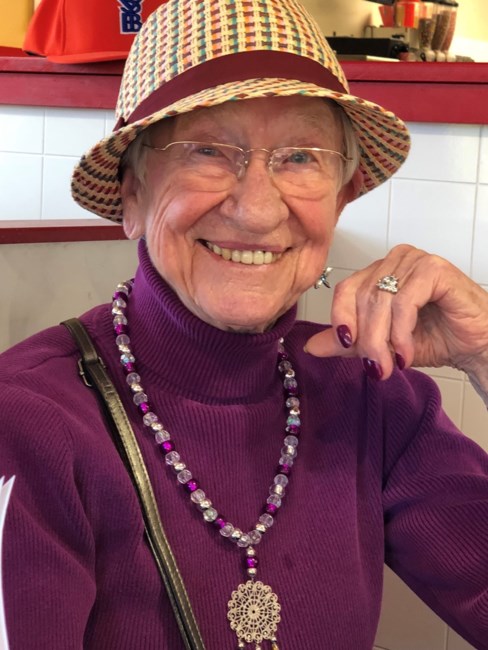 After many adventures and a long life, our treasured mother, devoted wife, adored grandmother, loving sister, cherished aunt, and caring friend, Joan Wakefield Noell passed away on November 16, 2022 at the age of 92 years and 9 months. She passed peacefully surrounded by three generations of family including her beloved husband, Vern. Joan's adventure started on February 23, 1930 when her father remarked that her mother had produced an interesting "Gadget" and that nickname followed her through life with her parents. She attended Lindsay Elementary and graduated from Lindsay High School. She earned her bachelor's degree in Life Sciences from Oregon State University (Go Beavs), was in the sorority of Alpha Delta Phi, and graduated in 1951. Joan met Vernon Noell, her 70 year co-conspirator in adventure, during the summer of 1952. Although Vern had grown up less than 10 miles from Joan's home in Lindsay, their meeting might have come from a novel. They met on the beach in Waikiki, Hawaii in front of the Royal Hawaiian "Pink Lady" Hotel. Joan was enrolled in summer school classes at the University of Hawaii and Vern was stationed there during his stint in the Navy. Story has it, she played hard to get when Vern asked her out, but his wit and charm stole her heart and she agreed to a date. It was more than a summer fling. They communicated via letters for six months before Vern could make it home to meet his prospective in laws and ask for her hand. He was able to transfer to Alameda for the duration of his enlistment and they were married on December 20, 1953. At that time Joan was teaching biology and chemistry in Modesto, California, a 3 hour drive. From 1954 on, Joan and Vernon lived in neighboring Strathmore, CA where they had 4 boys then (finally!) a girl. After all the kids were in public school, Joan returned to teaching but moved to teaching 5th graders. In 1993 Joan retired from 22 additional years as a 5th grade teacher in neighboring Lindsay and they moved to Cambria, an idyllic town on the Central Coast of California. Later they moved to Westlake Village to be near two sons and five of their grandkids. Although she was a STEM pioneer before "stem" existed she said, "I prefer 5th grade because the students still love their teacher." She also wrote many articles for the Lindsay Gazette. If you asked her what her favorite thing to do was, her answer was always, without hesitation, being a wife and a mom. Joan loved her husband dearly and was devoted to Vern since the day she met him. They loved to travel in the RV, square dance, and were active members in their church and bible study. Dad returned her love with devotion and sang to her daily "Let me call you sweetheart, I'm in love with you." They shared a very special love apparent to the many, many people who called them friends over 69 years of marriage. Her hobby was knitting. She was often seen with yarn and knitting needles creating beautiful sweaters, blankets, and hats for one of her children, grandchildren, church members, or someone in need. Mom was a wonderful, loving mother and grandmother. She loved to bake cookies, her favorite was Ginger Snaps, the smell of which never fails to remind family of growing up in her home. Over the years, she and Vern made thousands of jars of yummy pomegranate, plum, and peach jam. Joan has now entered the arms of our Lord and Savior, her parents, Arthur and Dora Wakefield, and her sister Carolyn Wakefield Elliott and her husband Henry Elliott. Loving and missing her here on earth is her husband of 69 years, Vernon F. Noell, their five children and their spouses, Michael and Robin Noell, Kevin and Marti Noell, Craig Noell, Eric and Denise Noell, and Vance and Judi (Noell) Baker, 12 grandchildren, four great-grandchildren, and many wonderful nieces and nephews. This past summer she had the satisfaction of seeing her far flung clan gathered in Lake Tahoe where she was heard to say that she "didn't want to go to bed for fear of missing out on some tidbit from any of the gathered family." There truly are not enough words of thanks for the caring, loving staff of Kristie Jo's Love, Comfort and Care. Mom spent the last year of her life being cared for by them and she was happy, comfortable and loved. They are a special group of caregivers, and we are so grateful to them for the many wonderful months she shared with them, in particular, Sarah and Lauren are truly angels here on earth. Clearwater at Riverpark, an Independent Living Community, also contributed greatly to mom's quality of life in her later years. She developed many wonderful friendships, and they were a part of her "later life" family. We love and appreciate all of them. Joan was an amazing example of quiet Christian faith as witnessed by her love, dedication, strength, determination, and compassion. Joan will forever be in our hearts. We bid her farewell knowing that she is planning new adventures for her surviving husband Vernon, the rest of the family, and many friends in God's Kingdom. The family will celebrate Mom's life in a few months at a family get together. Fond memories and expressions of sympathy may be shared at www.neptunesociety.com/location/santa-barbara-cremation for the Noell family.
See more
See Less
In Memory Of
Joan Wakefield Noell
Help tell the story of your loved one's unique life. Leave a memory or share a photo below to show your support.