OBITUARY
George Michael Tilton
February 27, 1952

–

February 1, 2023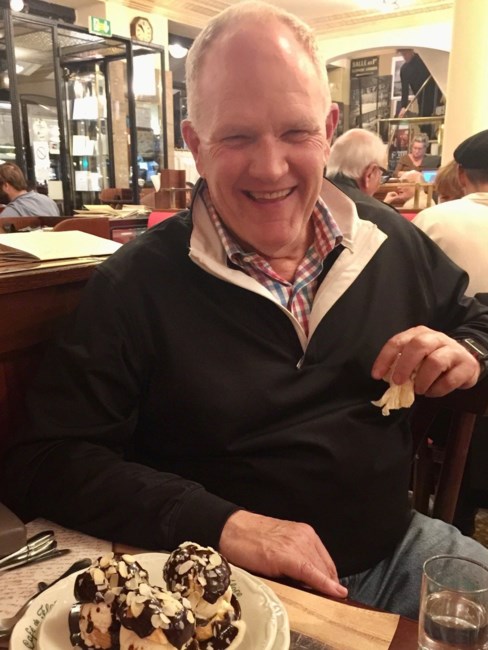 George Michael Tilton passed away peacefully in his sleep on February 1st, 2023 in Houston, Texas after a brave battle with Glioblastoma. George Michael was born on February 27th, 1952 to George Henry Tilton and Patricia Lou Tilton (nee Carney) in Denver, Colorado. Although he shared his first name with his father, everyone knew him as "Mike" his entire life. As the eldest of four brothers, Mike felt it was his duty to set a positive example for them to follow. He excelled in his studies, particularly English. He was a voracious reader and excellent writer. In the house, he assisted his mother to keep his brothers accountable to their assigned chores. His chosen method of rolling up a wet towel and snapping it at his brothers was perhaps unorthodox, but effective nonetheless. While attending Arapahoe High School, he was well known for being a kind, charming, and caring friend to many. He excelled as a down lineman for the high school football team, participated in shot put, discus throw, and took lessons for both piano and drums. An injury his senior year kept him from playing football in college, but he remained an avid fan his entire life. Some may say it was a coincidence that Mike passed the same day Tom Brady announced his (second) retirement.Those who do may not know how deeply Mike loved the sport and how furious he was Brady made the senseless choice to return. During his time at University of Colorado Boulder, Mike saw a young woman exit the Honors Building on campus and was immediately smitten with her. Although shy at first, he eventually worked up the courage to strike up a conversation with her. After a few years of dating, Mike realized he did not want to continue his law school studies without her. His initial nervousness at popping the question resulted in him asking twice, but he was thrilled when she realized he wasn't joking and said yes. Mike and Jessica Caryn Reiss were married on June 5th, 1976 in Denver, Colorado. Once married they took their little orange BMW back to Texas - the beginning of 46 years together.Their first daughter, Sarah Helene, was born on August 25th, 1982. Their second daughter, Patricia Anne, was born on May 3rd, 1986. After finishing law school, Mike started work as a CPA, working his way up the corporate ladder until he became Vice President of Tax. His desire to learn and improve took him to senior positions at Pier One Imports, Office Max, and Best Buy Inc. In addition to working in corporate tax, Mike wrote several books and traveled across the country to teach international tax law. Even after retiring from working in corporate tax, he continued to write tax manuals. In his later years Mike was an avid tennis player, golfer, and enthusiastic football watcher. His love of music inspired him to build a large collection of CDs and records. Weekends at the Tilton household were spent listening to whatever Mike wanted - he would turn it up so loud you could hear it down the street. While he could not cook Mike loved to eat, and was well known for his ability to inhale the vast quantities of food Jessica and his daughters prepared for him. He is survived by his wife Jessica (nee Reiss), daughter Sarah Tilton, and daughter Patty (Mark) Liepold. He is also survived by his brothers David (Debbie) Tilton, Philip Tilton, and Daniel (Betsy) Tilton. Mike was preceded in death by his father George Henry Tilton and mother Patricia Lou Tilton. **In lieu of flowers, we are asking for donations to MD Anderson Cancer Center in honor of Mike Tilton.
See more
See Less
In Memory Of
George Michael Tilton
Help tell the story of your loved one's unique life. Leave a memory or share a photo below to show your support.