OBITUARY
Danny "Dan" Johann Bakker
June 14, 1951

–

January 26, 2023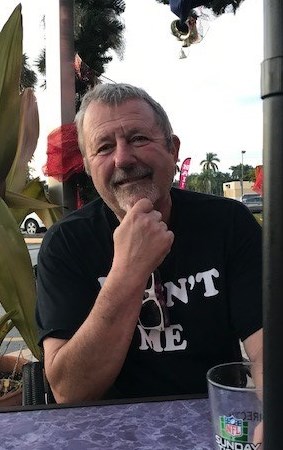 Danny "Dan" Johann Bakker – the man, the myth the legend - left us on Thursday January 26th, 2023 after suffering a major stroke in his Florida home. The family is deeply saddened and shook by his sudden death. He was born June 14, 1951 – and was 71 years old at the time of his passing – but it's best not to dwell on the sadness of it all – instead to tell you a bit about Dan. He would want that… Dan is survived and missed so much by his loving wife Linda (Slifko) Bakker of 38 years. His 3 surviving children Jesse Bakker, Christopher Bakker, and Stephanie Bakker can never replace the void that he leaves behind. His grandchildren Taylor Weis (age 19), Pierce Bakker (age 15), and Bailey Bucher (age 11) will remember "P-Pop" fondly and knew him in a way that few grandchildren get to know their grandfather. His brothers Nick Bakker and David Bakker – also mourn the loss and know that their brother Dan lived a very full life never going anything less than full speed ahead. He is predeceased by his beautiful daughter Jacklynn Bakker, his parents Johann Bakker and Margaret (Groenewal) Bakker, and his in-laws John and Barbara (Quick) Slifko. YOUNGER YEARS AND WORK: Danny J. Bakker was born in Patterson, NJ; but lived most of his life in Hawley, Pennsylvania where he grew up wreaking havoc around town – and he and his brothers were known as the "Bakker Boys". Oh the stories he could tell you about his childhood - his mother was apparently a saint, and his father worked hard to get him out of trouble that he found himself in. As a family man, he and his brother Nick began the business of Bakker Marine Inc., with little money, and just working on boats in their garage – when Jesse, Chris and Stephanie were still in Elementary School. As their popularity grew known they branched out, following in their father's footsteps and opened their own place – which is still open today. Although Dan believes he retired from the Marina in 2020, not a day went by that he didn't work - either delivering boats, or giving much needed advice that only he knew how to give (wink wink). Dan was, without a doubt, known as a working man, never stopping for even 15 minutes of his life. There was always a personal or work project that took over his mind – and he would focus on it until it was complete. He would never quit, and didn't know the meaning of rest! LOVE LIFE: Men wanted to be him, and women wanted to be with him. But in 1984 he met the love of his life – Linda Slifko – who also had a daughter Jacklynn Bakker (who he later adopted). Linda was known by all – as the light of his life, and there was an undeniable loyalty between them – even in their hard times. The 38 years of marriage they shared is a bond that can never be broken! Although he grew up in PA, in 1996 he and his wife Linda bought their Florida Home in Fort Myers, FL where they have resided as "snowbirds" for the last 27 years. When Hurricane Ian hit in late 2022, Dan immediately flew to begin repairs – in preparation for his wife's return for the season. It is there he has worked non-stop until the date of his passing. FRIENDS: Dan was also known by so many in his hometown of Hawley, PA – as a Giver. He was always helping out a friend in need whether with money, housing, clothing, transportation – you name it. It was not unusual to have a friend live with the family for years, and we don't believe there was anyone he knew that he wouldn't have a soft spot for – unless, of course, you were affiliated with the Government – they didn't deserve a penny of his money. As a matter of fact, he always swore they would have to search for where he buried it if ever they came knocking. And please know – Although he might not give the shirt off his back to you (because it likely had holes), he never left you hanging. GRANDFATHER: It should be noted – Danny Bakker wasn't a traditional 'grandfather', as he asked the children to call him Party Pop – to which they shortened to P-Pop at a young age. He taught them how to shoot, skin animals, fish, manage money – and bury it, drink responsibly, throw a good party, when to go to bed while at the party – in a way nobody notices, how to make wine, siphon gas, and an occasional inappropriate lesson of life that nobody will admit they've ever taught you. 😊 FATHER: Besides the love of his wife Linda, he had 4 amazing children who knew him as "Pops" and can attest that he was never one to mince words or beat around any bush. You knew exactly where he stood on a matter at all times – OR there was a chance it might just be too complicated to explain – but if you nodded and said "I know what you mean Pops" – morsels of details would slowly begin to flow again. Pops worked hard – and he passed that trait to his children in so many ways. He loved his children deeply, and those who knew him knew that although he said "Glad to see you come and glad to see you go"- you knew that the days leading up to the visit were 100% in preparation for what fun plans he could make with them & for them, and the days after they left (even as adults) brought him a silent sadness. They were his world! His legacy will carry on forever – reminding us that family matters, working hard is important, giving is a blessing, and to have fun until the very end! There are no words that can express how grateful and blessed you are – if you knew Danny Bakker. While the family remains in mourning – no arrangements have yet been made for his service. In lieu of flowers, go on that special trip you've been putting off, work on that project collecting dust, hug a loved one, and raise a glass (anything cheap, like PBR will do) to Danny Bakker, PPop, Pops, and a special man.
See more
See Less
Services
No services are scheduled at this time. Receive a notification when services are updated.
RECEIVE UPDATES
In Memory Of
Danny "Dan" Johann Bakker
Help tell the story of your loved one's unique life. Leave a memory or share a photo below to show your support.